Information for a chartered boat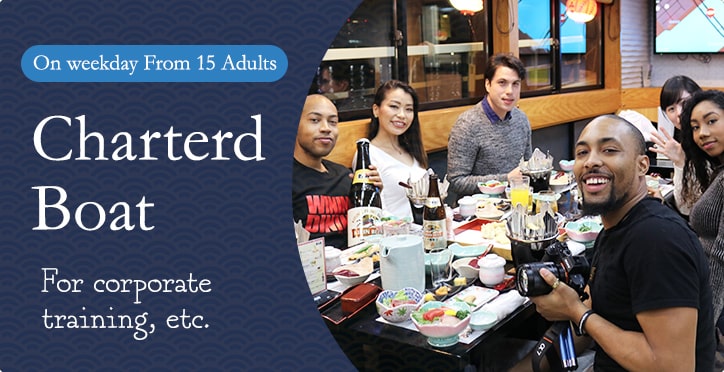 Suitable for large events
With a capacity of up to 120 people per boat, chartered boats are ideal for birthday parties, wedding receptions, team building events, company gatherings, and more.
We offer five departure piers for your cruise, "Asakusa", "Ariake", "Harumi", "Echinakajima" and "Edogawa" pier, which are all conveniently located close to major Tokyo attractions.
Customers have the choice between various cruise courses to some of Tokyo's main sightseeing spots such as Asakusa Sky Tree and Odaiba. Seasonal cruises including cherry-blossom viewing, and fireworks viewing are also available.
Details of chartered boat
Price per
person

A. Standard course: 11,000 yen
(Children under the age of 13: 5,500 yen )

B. Executive course: 14,300 yen
(Children under the age of 13: 7,150 yen )

C. VIP course: 16,500 yen
(Children under the age of 13: 8,250 yen)

* Children under the age of 4 are free and we do not offer seats and food.

* The price includes boarding fees, food, drinks, karaoke fee, service fee and taxes.

* There are no additional charges for regular use.

* Drinks are included with all menu.

Food

You can choose from the menu options below.



Drink

【 All you can drink 】

Beer
Japanese sake
Whiskey
Shochu(distilled spirits), Sweet potato Shochu , Wheat Shochu
White Wine, Red Wine
Sake with plums
Apricot Wine , Lychee Wine
Green Tea , Tea , Coke , Orange Juice , Oolong Tea , Water ,
Carbonated Water

Departure piers
Ariake pier 3minutes from Tokyo big sight station.
【Map is here
Harumi pier 5minutes from Kachidoki station.
【Map is here
Echinakajima pier 7minutes from Etchujima station.
【Map is here
Edogawa pier 3minutes from Ichinoe station.
【Map is here
Azumabashi (Asakusa) pier 5minutes from Asakusa station.
【Map is here
Sakurabashi (Asakusa) pier 15minutes from Asakusa station.
【Map is here
Cruise course
Odaiba Sky Tree Course
Odaiba Rainbow Course
Sky Tree Course
TOKYO BAY Course
Maihama romantic course
Sumida River Ohanami Course
* It takes place only on a flowering season of cherry blossoms.
Duration of cruise
About 2.5 hours
Reservation requirement for minimum number of persons.

Bookable minimum 10 people
The bookable minimal number of people per reservation may be subject to change.

Remarks

Smoking inside the boat is prohibited. Please use the designated smoking area on deck.
Information of payment for chartered boats
Payment method

We will contact you to confirm the availability of your cruise after we received your booking application.
Please pay 30,000 yen by credit card as a deposit within one week from the date of our confirmation.

We accept the following credit cards:




The remaining balance of the total cost must be paid one day before your departure.
Reservation process
Our boats require by advanced booking.Please book by email or by using the online booking form.
After we receive your booking request, we contact you with information about the availability of our boats within 3 business days.
If you would like to proceed with your reservation, you must pay a deposit of 30,000 yen within one week of receiving our notification. (The booking confirmation will be sent by email. Please reply to us after you receive the confirmation.)
After confirming the number of applicants, we will send you an email with the URL for the credit card payment.
The remaining balance of the total cost for all applicants must be paid by 13:00 one day before your departure.
We will contact you with a final confirmation of your cruise one day before your departure date.
Please arrive at the designated departure area 15 minutes before your bording time.
Notes
PLEASE BE ON TIME FOR YOUR CRUISE. Boats will not always wait for passengers who are late. If you are late for boarding time, the cruise may depart without you as waiting it may cause inconvenience for other passengers. In that case we will not provide any refund.
If there is an increase in number of passengers, you need to inform us before noon on the day prior to departure.
In case less passengers board on the departure day, no refund will be provided.
In the event of a typhoon we will do our best to notify you of any cancellations as early as possible. In this case your complete payment will be refunded. However, please note that even in rainy and windy conditions cruises will depart. If you decide not to board a cruise that has not been officially canceled no refund will be provided.
Cancellation fee
The following cancellation fees will be charged.
Cancellation fee
30 to 15 days prior to departure
20%of total price
14 to 8 days prior to departure
30%of total price
7 to 1days pprior to departure
50% of total price
On departure day
100%of total price
Booking and Contact
E-Mail will be answered between 10:00-19:00 (this is not an automatic booking service)
In case you do not receive an answer from us within 3 business days, please e-mail us at "info@amitatsu.jp" or re-send the online booking form.
Please note: The booking will be complete only after we have sent you a confirmation e-mail.