"Cruise boat" Cherry-Blossom viewing Yakatabune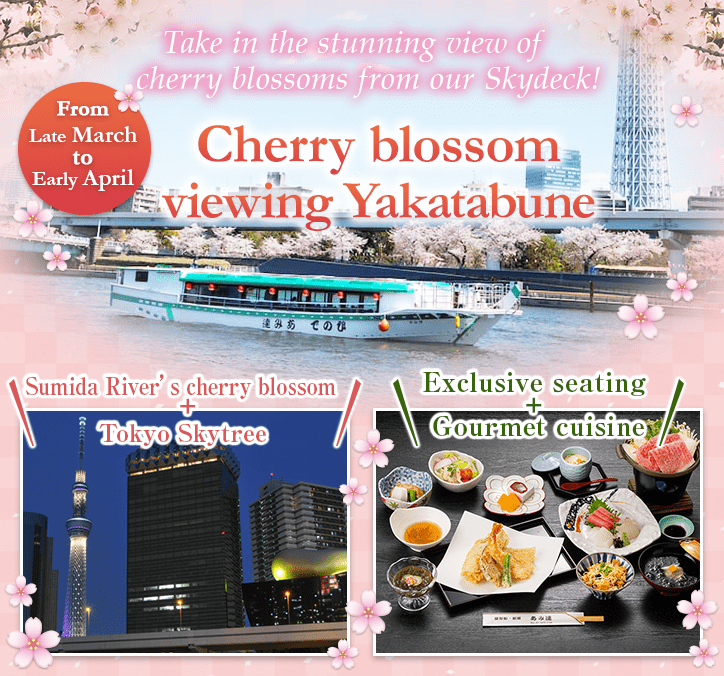 2020
Lovery cherry-blossom viewing on the Yakatabune
Why don't you see cherry blossoms from the special seat?
*Please click button below for the page about the chartered boat that can be reserved for 20 or more adults
【Sumida river cherry-blossom viewing course】departs from late March to early April
You can see the Sky-tree that is new sight of Tokyo at the cherry-blossom viewing course.
Departure schedule of a cruise boat
Booking cart confirmation / change
: Available
: Only a few seats left
: Full(Waiting list)
Date
Meeting time
Boarding location
Booking status
There is no schedule on this page.
Since details are still described below, please check it.
Depending on the bloom situation, We will also visit Odaiba.(The berthing time will be shortened on the cherry-blossom viewing spot.)
Details of a cruise boat
The charge for one person

Adult : 11,000yen
Child (age 4-12): 5,500yen

* The price includes tax
* Children 3 years and under are free, however, meals and seats will not be provided. In this case, children have to sit on the lap of an adult.

* Sharing a boat cruise with other tourists.

* Bookable minimum 2 adults

The dishes

Only Standard course【Detail of the dish】

* We also have the menu for vegetarians(Only the customer who hoped beforehand)

Please tell the number of people on the booking form.

The drinks

【 Drink:All you can drink 】

Beer
Japanese sake
Whiskey
Shochu(distilled spirits), Sweet potato Shochu , Wheat Shochu
White Wine, Red Wine
Sake with plums
Apricot Wine , Lychee Wine , Sweet Wine
Green Tea , Tea , CokeGinger ale, Orange Juice , Oolong Tea , Water ,
Carbonated Water

Boarding location
Harumi(kachidoki)
Toei Oedo line Kachidoki station 5 minutes on foot
【Map

Tour course

Sumida river cherry blossom viewing course

*Please understand depending on the blooming situation of cherry blossoms, the course might be changed to Odaiba Sky Tree Course

The required time

About 2 hours and 30 minutes
Remarks

We are preparing foods every group, but a table will be a shared by 2-8 people.
Please refrain from use of Karaoke in the ride sharing boat.
It's no smoking in the room of the boat.Please use the smoking location of the designation in the boat.
Payment guide of a ride sharing boat

Payment

methods

When you make a reservation, please make an advance payment by credit card.
We accept the following credit cards:
Boat facilities (example)
Godzilla

The outline of the boat
The number of people: 60 people-120 people
hori-gotatsu seat(Japanese-style drawing seat)/roof sky deck/ 4 gender-segregated bathrooms.
length: 30 m/width: 5.20m/ room extent :48 mats room/room height : 1m80cm
| | |
| --- | --- |
| 《Spacious shipboard》 | 《convenient hori-gotatsu seat(2 lines×7 tables)》 |
Table seat-style boat(634 Musashi)

The outline of the boat
The number of people:

20 people- 60 people

table seat/ sky roof deck/ 2 gender-separated bathrooms
length: 21m/width: 4.56m/ room extent: 32 mats room/ room height: 1m82cm
When is the best season for cherry-blossom viewing in Sumida River?
The declaration of flowering in Tokyo is announced when more than five flowers have opened in the sample tree of Somei-Yoshino(a kind of cherry blossom) in Yasukuni Shrine.

When the season of cherry blossoms approaches, forecast of flowering by the Meteorological Agency will be announced.
Weekends of the last week of March and the first week of April will be very crowded so we recommend to contact us as soon as possible.

If it will be blessed with the weather and temperature,We can enjoy the cherry blossom viewing for a long time until the second weekend of April.
cherry-blossom viewing landscape picture by a boat
Please see it in reference of a cherry-blossom viewing boat plan.
Sumida-river cherry-blossom viewing boat
| | |
| --- | --- |
| 《Cherry trees lined along the Sumida-river》 | 《Tokyo sky tree and cherry tree》 |
| 《The cherry blossoms by night are also special》 | 《Illuminated Tokyo sky tree and cherry tree》 |
| 《We also have a noon cherry-blossom viewing tour》 | 《The Japanese boat type 13 AMITATSUMARU》 |
Contact
E-Mail will be answered between 10:00-19:00 (this is not an automatic booking survice)
Without receiving an answer from within 3 business days, please e-mail to "info@amitatsu.jp" or e-mail to Booking form again.
Please note: The booking will be complete only after we send you a confirmation e-mail.