*The 2023 cherry-blossom viewing Yakatabune ended with favorable reception.
"Cruise boat" Cherry-Blossom viewing Yakatabune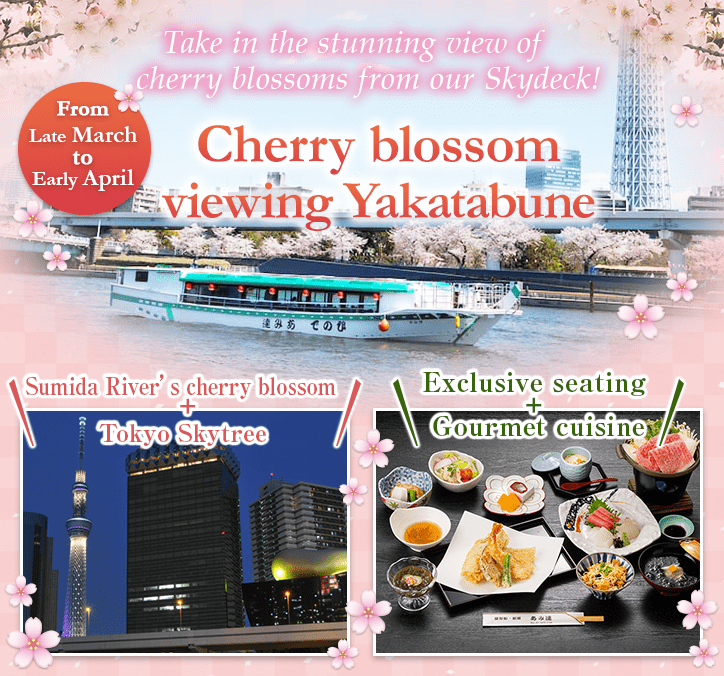 ・To ensure social distance, we limit the number of passengers to about 30% of the capacity.
・A partition is installed for each table to prevent droplet infection.
2023
Lovery cherry-blossom viewing on the Yakatabune
Why don't you see cherry blossoms from the special seat?
*Please click button below for the page about the chartered boat that can be reserved for 15 or more adults
【Sumida river cherry-blossom viewing course】departs from late March to early April
You can see the Sky-tree that is new sight of Tokyo at the cherry-blossom viewing course.
Departure schedule of a cruise boat
Booking cart confirmation / change
: Available
: Only a few seats left
: Full(Waiting list)
Date
Meeting time
Boarding location
Booking status
There is no schedule on this page.
Since details are still described below, please check it.
Depending on the bloom situation, We will also visit Odaiba.(The berthing time will be shortened on the cherry-blossom viewing spot.)
Details of a cruise boat
The charge for one person

Without all you can drink
Adult: 12,000yen 
Child (age 4-12): 6,000yen
With all you can drink
Adult: 14,000yen 
Child (age 4-12): 7,000yen


* Children 3 years and under are free, however, meals and seats will not be provided. In this case, children have to sit on the lap of an adult.

* Sharing a boat cruise with other tourists.

* Bookable minimum 2 adults

* Drinks are charged separately. (For details, please refer to the Notice of price revision )

The dishes


《 Standard course for dinner cruise boat 》

A side dish of boiled Edona seasoned with soy sauce
Smoked duck
Japanese rolled omelette
Salmon cheese
Assorted sashimi
Simmered Inari, Bamboo shoots and Yuba
Surf clam salad
Japanese beef Sukiyaki
Steamed egg custard with assorted ingredients
Tempura
Rice cooked with chicken and shimeji mushrooms
Sardine fish soup
Seasonal desserts

* All of the above is the current menu.
Please understand that the contents may change depending on the season and the day's ingredient availability.

Drinks
If you would like to order a drink, you can choose to order it individually or have all-you-can-drink.


【 Individual order 】

Orders and payments are made onboard.
Payment will be cashless payment.




【 All you can drink 】

<Price> Adult:2,000 yen / Children(age 4-12):1,000yen
*Price is tax included.
If you want to add all-you-can-drink, please pay in advance at the time of booking.
If you want to add all-you-can-drink, please add it to all accompanying people except children under 3 years old.

【Beer】

Draft beer
Kirin Lager (medium-sized bottle)
Asahi Superdry (medium-sized bottle)

【Japanese Sake】

【Shochu (distilled spirits)】

Kurokirishima(Sweet potato)
Umi(Sweet potato)
Hakusui(Wheat)
Nikaido(Wheat)
Shochu with oolong Tea
Shochu with green tea

【Whisky】

【House Wine (Frontera Chile)】

【Fruit Sour】

Lemon
Orange
Red Grapefruit
Pineapple
Lime
Plum

【Cocktail】

Cassis and Orange
Cassis and Soda
Cassis and Oolong tea

【Sake with plums】

【Soft drink】

Cola
Orange Juice
Ginger ale
Ramune
CALPICO
Oolong Tea
Green Tea
Coffee(ICE /HOT)

【Non-alcoholic】

Inboard photo

A partition is installed for each table to prevent droplet infection.

The photo is an example.

Boarding location
Harumi(kachidoki)
Toei Oedo line Kachidoki station 5 minutes on foot
【Map

Tour course

Sumida river cherry blossom viewing course

*Please understand depending on the blooming situation of cherry blossoms, the course might be changed to Odaiba Sky Tree Course

The required time

About 2 hours and 30 minutes
Remarks

Please refrain from use of Karaoke in the ride sharing boat.
It's no smoking in the room of the boat.Please use the smoking location of the designation in the boat.
The flow of Booking
Advanced booking is necessary, so please apply through the online booking or contact form.
Payment should be made by credit card.
* If you do not receive an e-mail within 3 days, there is a possibility of an e-mail error. Please contact us using a different e-mail address.
We'll send the "Booking confirmation form" by e-mail or fax after confirming your payment. Please show the confirmation form when boarding the boat.
* We will send "the meeting place map" and "the general instructions for the cruise "together, which will make the process easier for the first time customers.
Please make sure to arrive at the meeting time that is shown in the table above.
* Please note that customers arriving late may not be allowed to board the boat; in such case, there will be no refund.
Payment guide of a ride sharing boat

Payment

methods

After you apply from the departure schedule (reservation cart) on this page, please pay as it is.
We accept the following credit cards:
Cancellation fee of a dinner cruise boat
10 days to 3 days prior to boarding
20% of the total fare
2 days prior to boarding
50% of the total fare
1 day prior to boading
80% of the total fare
On boarding day.
100% of the total fare
Boat facilities (example)
18 Amitatsumaru

The outline of the boat
The number of people: 60 people-120 people
hori-gotatsu seat(Japanese-style drawing seat)/roof sky deck/ 4 gender-segregated bathrooms.
length: 30 m/width: 5.20m/ room extent :48 mats room/room height : 1m80cm
Table seat-style boat(634 Musashi)

The outline of the boat
The number of people:

20 people- 60 people

table seat/ sky roof deck/ 2 gender-separated bathrooms
length: 21m/width: 4.56m/ room extent: 32 mats room/ room height: 1m82cm
When is the best season for cherry-blossom viewing in Sumida River?
When the cherry blossoms are about to bloom every year, each meteorological company makes predictions about the flowering times in each region.
The cherry blossoms in Tokyo this year are expected to bloom from mid to late March. (Sakura flowering information reference:Japan Meteorological Agency official website )

Weekends of the last week of March and the first week of April will be very crowded so we recommend to contact us as soon as possible.

If it will be blessed with the weather and temperature,We can enjoy the cherry blossom viewing for a long time until the second weekend of April.
cherry-blossom viewing landscape picture by a boat
Please see it in reference of a cherry-blossom viewing boat plan.
Sumida-river cherry-blossom viewing boat

《Cherry trees lined along the Sumida-river》

《Tokyo sky tree and cherry tree》

《The cherry blossoms by night are also special》

《Illuminated Tokyo sky tree and cherry tree》

《We also have a noon cherry-blossom viewing tour》
Contact
E-Mail will be answered between 10:00-19:00 (this is not an automatic booking survice)
Without receiving an answer from within 3 business days, please e-mail to "info@amitatsu.jp" or e-mail to Booking form again.
Please note: The booking will be complete only after we send you a confirmation e-mail.