Departure schedule of a dinner cruise boat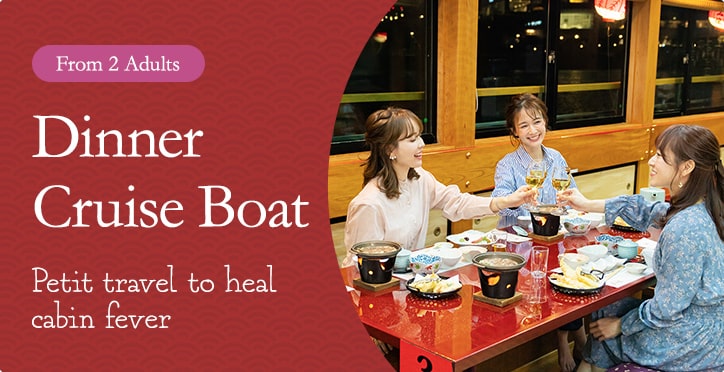 ・To ensure social distance, we limit the number of passengers to about 30% of the capacity.
・A partition is installed for each table to prevent droplet infection.
Departure schedule
*Due to the spread of the Covid-19, shipping may be suspended.
*The schedule below is the schedule for Dinner cruise boat. Chartered boats can be reserved 24 hours a day, 7 days a week, except during the year-end and New Year holidays.
* We accept reservations from three months in advance.
*Please make a reservation by 15:00 the day before for lunch and by 12:00 on the day for dinner. For reservations after that time, please check availability using the contact form before making a reservation.
【 Course 】
Odaiba Skytree Cruise
*Fees are different on Saturdays in December due to the Odaiba Fireworks Yakatabune.
▼ Please scroll horizontally to view.
The flow of Booking
Advanced booking is necessary, so please apply through the online booking or contact form.
Payment should be made by credit card.
* If you do not receive an e-mail within 3 days, there is a possibility of an e-mail error. Please contact us using a different e-mail address.
We'll send the "Booking confirmation form" by e-mail or fax after confirming your payment. Please show the confirmation form when boarding the boat.
* We will send "the meeting place map" and "the general instructions for the cruise "together, which will make the process easier for the first time customers.
Please make sure to arrive at the meeting time that is shown in the table above.
* Please note that customers arriving late may not be allowed to board the boat; in such case, there will be no refund.
Payment guide of a ride sharing boat

Payment
methods

Please pay the full fee within 1 week after the reservation.
We accept the following credit cards:
Cancellation fee of a dinner cruise boat
10 days to 3 days prior to boarding
20% of the total fare
2 days prior to boarding
50% of the total fare
1 day prior to boading
80% of the total fare
On boarding day.
100% of the total fare
Guide for boarding area
Please make sure to check which pier you are departing from.
Azumabashi (Asakusa)
Harumi(Kachidoki)
※Harumi is used only in cherry blossom season
Booking and questions
* E-Mails will be answered between 10:00-18:00 (this is not an automatic booking service)
* If you do not receive any answer within 3 business days, please e-mail us to "info@amitatsu.jp" or e-mail to Booking form again.
* IMPORTANT: The booking will be complete only after we send you a confirmation of reservation e-mail.