If you want to ride a boat in Tokyo, please choose " AMITATSU".
Yakatabune AMITATSU is a long-established boat founded 100 years ago. Since then, numerous tourists have enjoyed riding on of our eight (8) boats. Each boat is large-sized, equipped with the latest facilities and observation deck.
AMITATSU boats accommodate large groups of customers, and we have a wide variety of courses that tour around popular sightseeing spots of Tokyo. We do our utmost to offer high quality boat cruises.
Bookable from 2 persons!

We have two (2) types of boat reservations: 1. "RESERVED BOAT" or 2. "RIDE SHARING BOAT".
RESERVED BOAT: Consists of renting an entire boat. (Examples: Party, banquets, company outings, etc). [Weekdays] bookable from 15 people. [Weekends and Holidays] bookable from 20 people.
RIDE SHARING BOAT: Consists of sharing a boat cruise with other tourists. You can reserve this type of boat from 2 people, so it is suitable for people who want to enjoy a boat cruise casually.
*In this web site, we will offer you information about Ferry boat (Ride Sharing Boat).
check the schedule of ride sharing boat
Sightseeing course of Ferry boat (Ride Sharing Boat).
Daiba Sky tree course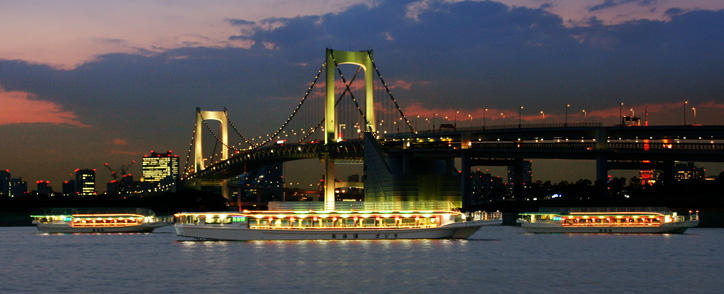 The sightseeing course of the ride sharing boat is "Daiba Sky tree course", which departs from Azumabashi-sanbashi. Experience "Daiba" and "Tokyo Sky Tree", two of the most popular sightseeing spots in Tokyo, on the same trip! This course is also most popular among Japanese tourists.
Time required: About 2 hours and 30 minutes
Departure and come back: Azumabashi-sanbashi (only in cherry blossom season : Harumi-sanbashi)
Fee and Dishes
※The following fee includes: Boarding fee, meals and drinks, and service charge. There are no additional fees.
※Rates include unlimited 【All you can drink】with all courses.
Fee: Adult 10,800 yen (including tax)/Schoolchild 5,400 yen (including tax)
Dishes: A standard course ※ ferryboat will be only a standard course.
Standard course Banquet dish example
The menu of the standard course
Vinegared Mozuku Seaweed
Eggplant with dengaku miso
Thick omelet
Smoked salmon Marinade
Egg Custard
Japanese Surf Clam Salad
Simmering of conger eel
Assorted Sashimi
Hot pot with a variety of seafood, vegitables and chicken meatballs
Tempura An assortment (7 pieces)
(Japanese Whiting,shrimp, conger eel, squid and3 seasonal vegetables)
Mixed Rice with Octopus and Scallop
Seasonal fruits
(Pineapple orange)
※ All of the above is the current menu.
The items on the menu may change depending on season.
There is also a menu for vegetarians.
If you make a reservation in advance, we will offer you the vegetarian menu.
Please let us know the number of people who require the vegitarian menu.(fill in the Booking and Application Form).
boat facilities (example)
There are 8 boats owned by AMITATSU. In this web page, we will introduce 2 of them.
Our company will make an arrangement of the boat which you will be on board,
by the number of customers of the day.
GODZILLA

The outline of the boat
The number of people: 60 people-120 people
hori-gotatsu seat(Japanese-style drawing seat)/roof sky deck/ 4 gender-segregated bathrooms.
length: 30 m/width: 5.20m/ room extent :48 mats room/room height : 1m80cm
| | |
| --- | --- |
| Spacious shipboard | convenient hori-gotatsu seat(2 lines×7 tables) |
Japanese-style room boat (No.12 AMITATSUMARU)
The outline of the boat
the number of people: 20 people-40 people
table seat/ roof skydeck /2 gender-segregated bathrooms
length:21m/width: 4.56m/ room extent:32mats room/room height :1m80cm
| | |
| --- | --- |
| convenient floor space with the floral leaf color tatami | up to 36 people can sit in one line |
check the schedule of ride sharing boat
Booking and Contact
E-Mail will be answered between 10:00-19:00 (this is not an automatic booking survice)
Without receiving an answer from within 3 business days, please e-mail to "info@amitatsu.jp" or e-mail to Booking form again.
Please note: The booking will be complete only after we send you a confirmation e-mail.