If you want to ride a boat in Tokyo, please choose " AMITATSU".
Yakatabune AMITATSU is a long-established boat founded 100 years ago. Since then, numerous tourists have enjoyed riding on of our eight (8) boats. Each boat is large-sized, equipped with the latest facilities and observation deck.
AMITATSU boats accommodate large groups of customers, and we have a wide variety of courses that tour around popular sightseeing spots of Tokyo. We do our utmost to offer high quality boat cruises.
Introduction movie
Reservation is available from 2 persons!

We have two (2) types of boat reservations: 1. "DINNER CRUISE BOAT" or 2. "CHARTERED BOAT".
DINNER CRUISE BOAT
Sharing a boat cruise with other tourists. You can reserve this type of boat from 2 people, so it is suitable for people who want to enjoy a boat cruise casually.
Check the schedule of Dinner cruise boat
CHARTERED BOAT
Rent of entire boat. (Examples: Parties, banquets, company outings, etc).
Weekday: bookable minimum 15 people.
Friday,Saturday,Sunday,Holidays: bookable minimum 20 people.
Learn more about chartered boat
Sightseeing course of a dinner cruise boat
Daiba Sky tree course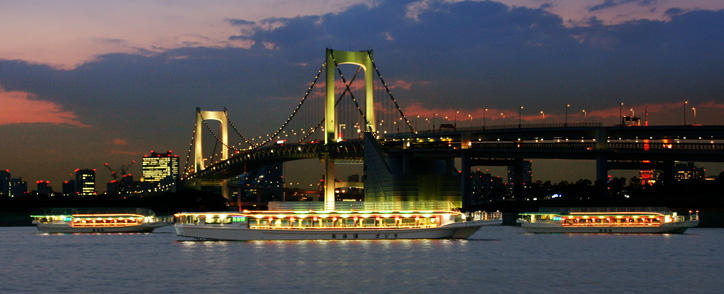 "Daiba Sky tree course" is a sightseeing course on a shared boat which departs from Azumabashi-sanbashi. Experience "Daiba" and "Tokyo Sky Tree", two of the most popular sightseeing spots in Tokyo, on the same trip. This course is also the most popular among Japanese tourists.
Duration of the course: About 2 hours and 30 minutes
Departure and arrival: Azumabashi-sanbashi (only in cherry blossom season : Harumi-sanbashi)
Fee of a dinner cruise boat
Adult: 11,000 yen
Children(age 4-12): 5,500 yen

Children(age 0-3): Free

* We do not offer seats and food.
The following is included in the fee
Boarding fee, meals, service charge and tax.
*Drinks are charged separately. (For details, please see the price revision notice.)
See more about drinks.
Food menu
When it comes to Yakatabune,
You must have freshly fried tempura and fresh sashimi.
We also prepare other dishes made using seasonable ingredients.
Standard course for dinner cruise boat
* We offer only Standard course for the guests of dinner cruise boat.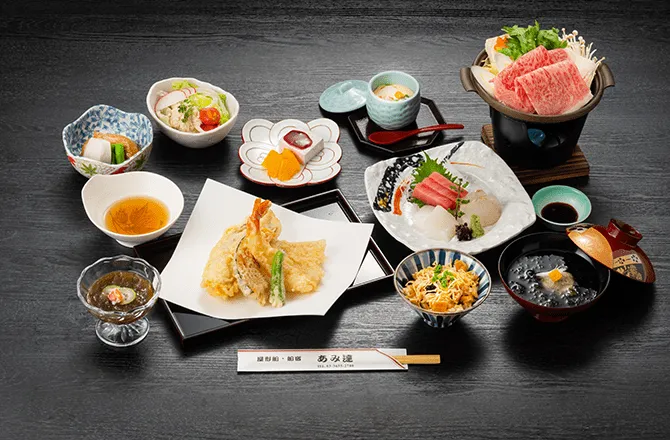 《 Banquet dish example 》
There is also a menu for vegetarians.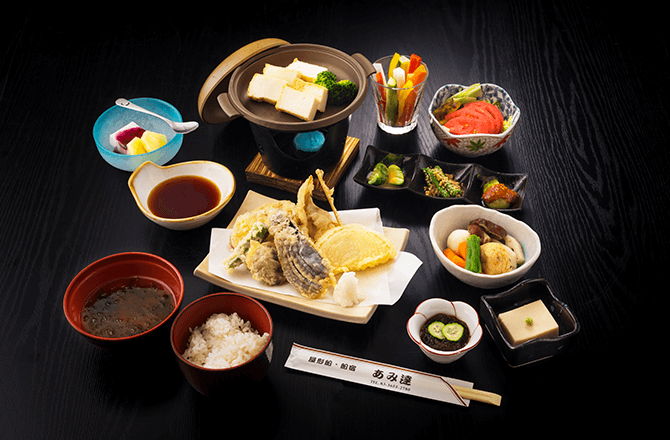 If you make a reservation in advance, we can offer you the vegetarian menu.
Please let us know the number of people who need the vegetarian menu.
(fill in the Booking Form).
Drinks
If you would like to order a drink, you can choose to order it individually or have all-you-can-drink.
Individual order
Orders and payments are made onboard.
Payment will be cashless payment.
All you can drink
<Price> Adult:2,000 yen / Children(age 4-12):1,000yen
*Price is tax included.
If you want to add all-you-can-drink, please pay in advance at the time of booking.
If you want to add all-you-can-drink, please add it to all accompanying people except children under 3 years old.
【Beer】
Draft beer
Kirin Lager (medium-sized bottle)
Asahi Superdry (medium-sized bottle)
【Japanese Sake】
【Shochu (distilled spirits)】
Kurokirishima(Sweet potato)
Umi(Sweet potato)
Hakusui(Wheat)
Nikaido(Wheat)
Shochu with oolong Tea
Shochu with green tea
【Whisky】
【House Wine (Frontera Chile)】
【Fruit Sour】
Lemon
Orange
Red Grapefruit
Pineapple
Lime
Plum
【Cocktail】
Cassis and Orange
Cassis and Soda
Cassis and Oolong tea
【Sake with plums】
【Soft drink】
Cola
Orange Juice
Ginger ale
Ramune
CALPICO
Oolong Tea
Green Tea
Coffee(ICE /HOT)
【Non-alcoholic】
Boat facilities (example)
There are 8 boats owned by AMITATSU. In this web page, we will introduce 2 of them.
Clients of the Ferry boat (Ride Sharing Boat) cannot choose the boat they will be boarding on.
GODZILLA

The outline of the boat
The number of people: 60-120
Japanese-style seats* (hori-gotatsu seat)/ sky roof deck/ gender-separated bathrooms
Length: 30 m/ width: 5.20m/ room extent: 48 mats room/ room height: 1m80cm
*Japanese-style seat is the low-sit table with a space for your legs.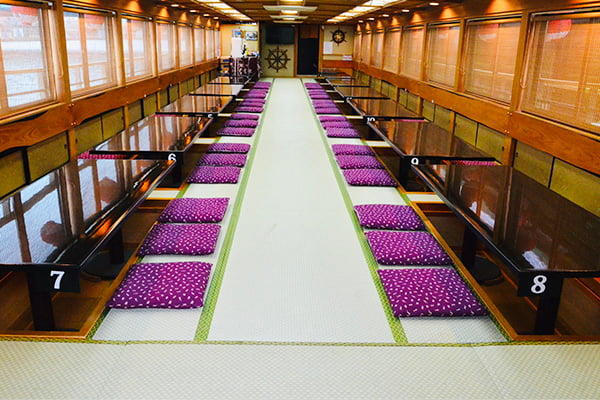 convenient hori-gotatsu seat (2 lines×7 tables)
Japanese-style room boat (634 Musashi)

The outline of the boat
the number of people: 20-60
table seat/ sky roof deck/ gender-separated bathrooms
length: 21m/width: 4.56m/ room extent: 32 mats room/ room height: 1m82cm
check the schedule of dinner cruise boat
Booking and Contact
E-Mails will be answered between 10:00-19:00 (this is not an automatic booking service)
If you do not receive any answer within 3 business days, please e-mail us to "info@amitatsu.jp" or e-mail to Booking form again.
IMPORTANT: The booking will be complete only after we send you a confirmation of reservation e-mail.