The Fireworks Yakatabune for 2023 has been successfully finished.
"Dinner cruise boat" Fireworks Yakatabune (2023)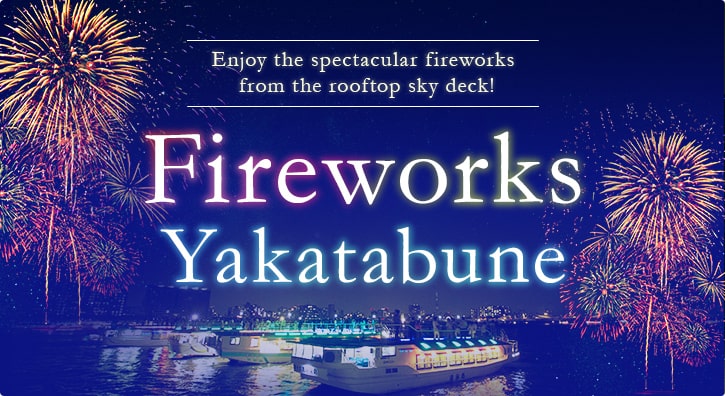 The roof of the Yakatabune is a sky deck with a 360 degree view!
You can enjoy the firework in a special seat.
Of course you don't need to secure a spot for fireworks
Please enjoy it.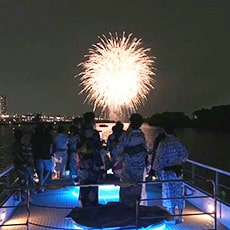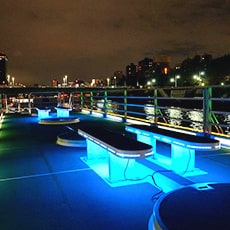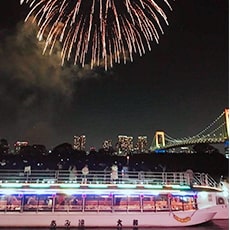 Departure schedule of fireworks-yakatabune
Booking cart confirmation / change
: Available
: Only a few seats left
: Full(Waiting list)
Fireworks
event name
Date
Booking
status
Price
Meeting
time
Boarding
location
Adachi
Fireworks Festival
Jul 22(Sat)
32,000yen
(22,400yen)
15:00

Edogawa(Ichinoe)

Not accepted
Katsushika
Fireworks Festival
Jul 25(Tue)
26,000yen
(18,200yen)
16:30

Edogawa(Ichinoe)

Not accepted
Sumida River
Fireworks Festival
Jul 29(Sat)
51,000yen
(35,700yen)
14:30

Etchujima

Not accepted
Edogawa
Fireworks Festival
Aug 5(Sat)
41,000yen
(28,700yen)
14:30

Edogawa(Ichinoe)

Not accepted
Koto
Fireworks Festival
Aug 11(Fri)
29,000yen
(20,300yen)
16:00

Edogawa(Ichinoe)

Not accepted
* Booking can be made from 2 or more adults. The indicated price is for one person and inclusive a tax.
* The lower row of prices are for children aged from 6 to 12 years old.
* Due to the long hours spent on the boat, Please refrain from boarding children under the age of 6.
The details of fireworks-yakatabune
Food


Sample meal

Sesame Tofu
Assortment of three seasonal appetizers
Savory egg custard
Surf clam salad
Domestically-produced beef grilled on earthenware utensils
Sashimi
Assortment of Tempura
Mixed Rice
Japanese soup with minced sardine balls
Dessert

* All of the above is the current menu.
Please understand that the contents may change depending on the season and the day's ingredient availability.
* Since fire is strictly prohibited at the fireworks site, tempura will be served already fried in advance.
* In addition to the above, tea soba will be served only at the Sumida River Fireworks Festival and the Edogawa Fireworks Festival.

Drink

【 All you can drink 】

Bottled beer
Japanese Sake *︎Kizakura Kurojishi
Whiskey *WHITE HORSE fine old/Kaku
Shochu(distilled spirits)(Lemon/Plum) *Mercian TAKUMA
Sweet potato Shochu *Kurokirishima
Wheat Shochu *Hakusui
Wine(White/Red)
Sake with plums・Apricot Wine ・ Lychee Wine
Coke
Orange Juice
Ginger ale
Oolong Tea
Green Tea
Mineral water
Carbonated Water
Tea ・ coffee

* It is different from the all-you-can-drink menu of a regular dinner cruise boat.
* The type and brand may change depending on the purchase situation.
* If you bring in a drink, please be sure to let us know so that we can prepare a glass for you.
Payment information
Payment method

【Credit card】

After checking out the departure schedule (reservation cart) on this page, kindly proceed with payment as instructed.

We accept the following credit cards:


Remarks

We do not accept cancellations or reductions in the number of guests after payment has been processed, However we do offer the option to the change reservation to a third party. If you wish to do so, Please contact us for further assistance.
For reservations made 10 days before the fireworks display, a cancellation fee (full amount) will be charged even before payment is made.
Flow of reservation
Since it is a complete reservation system, please apply from the departure schedule (reservation cart) on this page. Reservations will only be accepted if seats are available by 20:00 on the previous day.
We'll send the "Booking confirmation form" by e-mail or fax after confirming your payment. Please show the confirmation form at the time of boarding the boat. We'll also send "The meeting place map" and "The general instructions of the boat" all together, which will make the process easier for first time customers.
Please make sure to arrive at the meeting time which is shown in the above table.
* Please note that late comes may not be allowed to board the boat; in such case, there will be no refund.
Information for use
Specification of the ship to be on board can not be accepted.(hori-gotatsu seat or table seat )
All the boats have a rooftop deck. (All ships with Western-style toilets)


In order to be on board for a long time, we avoid boarding preschool children.


Please be punctual for the meeting time as it may cause inconvenience to other customers. Boats will leave as soon as they are ready. Please note that we may make you wait for a while depending on how crowded the pier is, but if you are late, we will leave without waiting for you. In this case, please note that the fee will not be refunded.


Dishes are prepared individually for each person.


Please note that the use of karaoke is prohibited on board and that smoking is prohibited in all areas of the ship. (Smoking areas are available.)


The rivers on the venue will be very crowded during the fireworks event. We cannot guarantee a drop-off time, as safety is our first priority. It depends on the event, but it will be around 21:30 to 22:30.


If the fireworks display is cancelled due to weather or other reasons, the boat will be switched to a Noryo Boat with standard fee (all-you-can-drink included). (The difference will be refunded).
Please note that the full amount will be charged for interruption of the fireworks display after it has started.


If the fireworks display is cancelled after arriving at the venue without any fireworks, the following fee will be charged (the difference will be refunded). (The difference will be refunded)
(Difference between fireworks fee and standard fee) x 50% + standard fee (including all-you-can-drink)
Example:Katsushika Fireworks Festival ¥19,500 (tax included)


In case of cancellation of the cruise due to typhoon or rainstorm, we will inform you on our website by noon. (In that case, full refund will be made.)
The same will apply in the event that sailing becomes impossible due to weather conditions, etc., even if a fireworks event is to be held.
We apologize for the refunds that will be made at a later date, and any bank transfer fees will be shouldered by the customer.
Please note that due to the large number of people on board, it may take some time for refunds to be made.
For credit card customers, we will process your credit card payment in the negative. Depending on the credit card company's closing date, the amount will be deducted once and then offset in the month in which it is deducted. Please contact your credit card company for more details.


Boat facilities (example)
There are two other types of boats: A kotatsu type and a chair/table type.
(Please note that you cannot choose the boat.)
18 Amitatsumaru

The outline of the boat
Boarding capacity: 60 people-120 people
Hori-gotatsu seat(Japanese-style drawing seat)/roof sky deck/ 4 gender-segregated bathrooms.
Length: 30 m/width: 5.20m/ room extent :48 mats room/room height : 1m80cm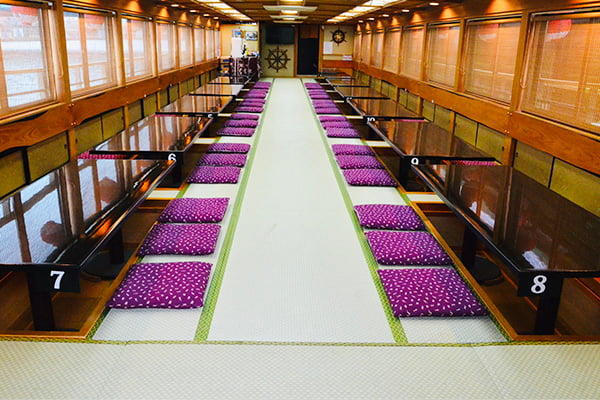 convenient hori-gotatsu seat(2 lines×7 tables)
Table Seat-style boat (634-Musashi)

The outline of the boat
Boarding capacity: 20 people-60 people
Table seat/ roof skydeck /2 gender-segregated bathrooms
Length:21m/width: 4.56m/ room extent:32mats room/room height :1m80cm
Fireworks-yakatabune : FAQ / Frequently Asked Questions
Q.How many days in advance should I make a reservation?
Reservation of cruise boat will be available after the end of Golden Week.
---
Q.Reservation method of a fireworks-yakatabune?
Departure schedule (reservation cart): Please make a reservation from the departure schedule (reservation cart) of this page.
Please pay the full fee within 1 week after the reservation.
---
Q.How many people can make a reservation?
For the fireworks event, a minimum of 2 people is required for the reservation. About the fireworks event,the reservation is possible from 2 people.
---
Q.Why is the Fireworks boat expensive?
The fee is different from a normal cruise. We will depart rather early to secure the place where guests can see more easily fireworks. Therefore, The time required is about 6 hours which is more than twice as long as a normal cruise.
Since many boats than usual gather in a small river at the fireworks event, we are particularly taking the security into consideration to increase the number of staff and arrange them in each boats.
Contact
E-Mail will be answered between 10:00-19:00 (this is not an automatic booking service)
If you do not receive a response after 3 business days, Please e-mail "info@amitatsu.jp" or re-enter a Booking form again.
Please note: The booking will be complete only after we send you a confirmation e-mail.